Analytics and Customer Service
11/06/19
by Sarah Blejwas
When trying to reach customer service for a company, almost all of us have lost our cool on the telephone after clicking through submenus, trying to speak to a human being. How many of us have hung up, deciding the desired result just isn't worth the aggravation? How many have persevered, only to get an unhelpful representative on the line? Unfortunately, most of us have been through this struggle. According to a 2015 report, 57% of consumers reported that they got so frustrated talking to a robot that they hung up the phone, and 75% were "highly annoyed" when they couldn't get a person on the phone (Consumer Report). Believe it or not, recent data have shown that this type of inadequate customer service is increasing, and the solution to improving these experiences may lie in analytics.
Since its emergence, Big Data has provided many benefits across industries, such as better decision making, increased productivity, and increased agility (Harvey). However, what may be seen as financially beneficial to companies may be a frustration to consumers. Data analysis can help companies reduce unnecessary costs in areas like employee turnover (analyzing potential hires to determine how well they might fit in), indirect costs (investing in "smart" products that provide statistics such as average energy used per month), and limiting customer service (insideBigData). However, in today's digital age, driving efficiency through big data, technology, and automation becomes an increasing problem for consumers who are trying to get their problems solved. Companies should note that investing in customer service pays off; 86% of customers would pay more (up to 25%) to a company with good customer service, and retaining customers is less expensive than winning over new ones (Amaresan).
Companies should note that investing in customer service pays off; 86% of customers would pay more (up to 25%) to a company with good customer service.
A recent Wall Street Journal article, "Everyone Hates Customer Service and This is Why," sheds some light on this issue. Available technologies, like artificial intelligence, are using data to determine a customer's "breakpoint"—how far customers are willing to be pushed until they decide the frustration isn't worth it and switch to another product/provider. Not only does artificial intelligence track how many ads consumers will tolerate and how long they are willing to wait for a human to answer their phone call, it also monitors the tone of voice of the customer on the phone. This technology allows companies to determine how much frustration customers can handle before they switch to another company, and helps to pinpoint which customers are most profitable and therefore worth the time and money it takes to please them. With the increase of digitized customer service, customers with the most complex issues tend to get through to customer service representatives, making such interactions significantly more important than interactions with customers who have minor problems (Terlep).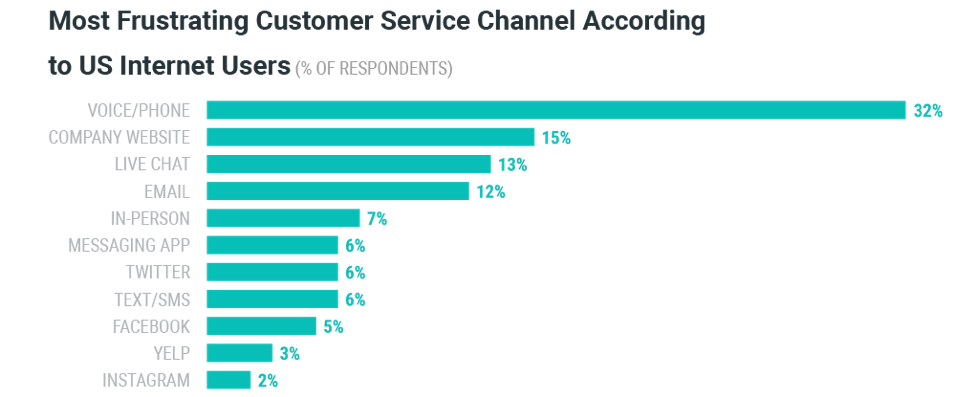 According to the American Customer Satisfaction Index (ACSI), the healthcare and social assistance sector amassed a score of 76.5 out of 100 for customer satisfaction in the fourth quarter of 2018, ranking just sixth out of the 10 major industries measured (manufacturing durable goods being the first, and public administration/government bringing up the rear). Furthermore, in their research on prescribers, McKinsey & Company found that when prescribers are fully satisfied with their experience in both finding a certain drug and with the pharma company's contribution to that process, they are twice as likely to prescribe that drug (Ascher). With some brands facing fierce competition against generic options, producers of name-brand pharmaceuticals must actively strive for customer retention. One way could be through improved customer service.
The founder of ThinkJar, Esteban Kolsky, states that customer service must shift away from a company-centric mindset and move toward a customer-validated service experience. According to his research presented at the Callidus Customer Conference in 2015, 55% of customers would pay more to guarantee a good customer service experience (Kolsky). What does this experience look like for the healthcare industry? Because company phone numbers are commonly listed on pharmaceutical brands' websites, the ability to talk to a person immediately instead of having to listen to 30 seconds of a phone menu may increase customer satisfaction. However, despite these problems, phone calls continue to be a preferable customer approach when it comes to getting questions answered quickly.
For the long-term health of any business —healthcare and wellness brands included— it is essential to improve phone-based customer service.
For the long-term health of any business—healthcare and wellness brands included—it is essential to improve phone-based customer service. In 2019 alone, customer service calls are set to influence $1 trillion in consumer spending in the United States, demonstrating a significant opportunity for companies to use better phone-based services to drive revenue. Furthermore, phone calls themselves generate 10 to 15 times more revenue than web leads, making positive phone-based service an extremely valuable marketing resource (Andersen).
Options for improving this customer service channel range from simple to complex, so no matter the size or spend of an organization, it is possible to find solutions that will work and to employ agencies with the capability to help. Although completely eliminating a phone menu may be impossible, programming one of the first options on the menu to connect a caller with a human representative may increase both satisfaction and ROI, since callers convert 30% faster than web leads (Andersen). Furthermore, regularly utilizing the phone system's analytics to see which menu options are most popular, and reordering/editing the menu to better anticipate customer needs (such as making popular options the first options listed), are good alternatives. Analyzing conversations can also help to determine if long hold times result in high call abandon rates, as well as when and at which locations calls simply aren't being answered, providing companies with information on how to improve customer experience and retention (Andersen).
Finally, keeping both the audience and the company KPIs in mind when designing these options is an important consideration that must be factored in (Robbins). When it comes to phone calls, using some of the techniques discussed here along with keeping a customer-focused mindset may help pharmaceutical companies and the healthcare industry as a whole improve their businesses while better serving patients, doctors, providers, and other interested parties.