EHR Conversational Marketing
09/09/20
by Angelo Campano
For a physician, open conversation is vital to understanding patient needs, providing services, and offering recommendations that solidify trust and confidence.
Marketers often rely exclusively on less effective, one-way communication channels, such as display advertisement. Delivering a message in the electronic health record (EHR) is something that successful marketers have begun to leverage. Marketers are now looking toward the EHR as start of a conversation to engage the physician, while with the most appropriate patient with information that truly helps improve loyalty and increase product satisfaction.
EHR conversational marketing is an emerging ad channel that uses the EHR (a highly personalized tool) to deliver one-on-one conversations. Physicians can learn about and remember client interests through the highly automated EHR technology. The result is better targeted messaging that drives higher response and conversion rates during the time a prescription or recommendation decision is made.
If your marketing in the EHR still relies exclusively on one-way channels including display advertisements, you're missing opportunities to grow a stronger relationship with your customers
Display advertisements flow in one direction. With EHRs, you can both talk and listen.
One-way communication just isn't as effective. When you know what your customers want, you can offer discounts, inform of special events, and deliver relevant information in your EHR campaigns that resonate, which is more likely to convert leads and generate more excitement.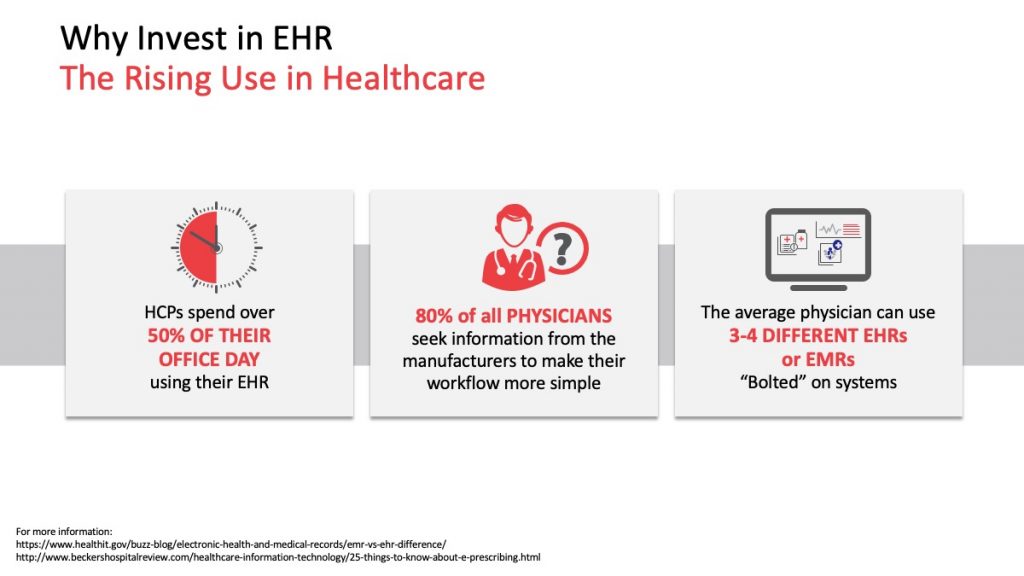 EHR conversational marketing is a channel especially well-suited where trust and strong relationships already exist. Personalized information collected through conversations enables the manufacturer to remain above the customer marketing noise.
When fighting for customer mindshare, it's easy for messages to get lost in the shuffle. A key to breaking through the clutter is with personalization and relevance.
Everyone has communication preferences, so you'll reach the most targets at the most opportune times when you're not dependent on a single channel.
---
Want to learn more about electronic health records and other industry-leading point of care solutions? Check out our expert POV on why Adherence at Scale Starts With the Point of Care.