Successful Agency/Client Partnerships 101 (in the Age of COVID)
07/29/21
by Kevin King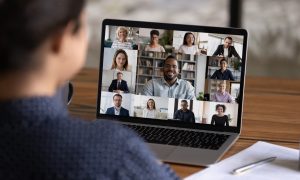 When searching for an agency partner, many of the same criteria rise to the top each time: a partner that knows the business, lives and breathes the challenges and opportunities that client teams face on a daily basis, is proactive, and has great attention to detail. But there is often more to a great relationship …there's also chemistry and team dynamic. That's why, after a winning pitch, it is often said, "There was great chemistry in the room," "There was a great team dynamic," and "We could see ourselves spending many long hours together during launch."
So given all that has changed during the past 18 months, all that has evolved, many have wondered…is it possible to build a highly effective, productive, and strong client partnership with a client team you have never met in person? This is such a key question given the important roles chemistry and team dynamic often play in the agency/client relationship.
Many of the strongest and most successful client relationships are forged from a very hands-on approach, with the agency team spending hours with the client and becoming embedded and immersed in the client business. Some agencies truly become an extension of the client's own marketing team. Many have used that approach as a determinant for "what good looks like" because it can result in strong relationships, great work, and enhanced agency responsibilities and growth. This begs a question: is this type of relationship possible when you never meet the client face-to-face, can never feel or read the dynamic in the room, and don't have the in-person interactions that are the foundation of so many relationships?
Welcome to agency life in the COVID-19 era. Good news—the answer is a big and resounding yes! It can be done! And it is not only possible, I can attest that I see and experience it every day at Ogilvy Health.
At the root of it all, the keys to a successful agency/client partnership in the COVID-19 era are very similar to those that make for strong relationships in a non-pandemic world. The fundamentals remain the same: a strong, dedicated team of individuals who know the business, people with a proactive mentality at every level and within every discipline, a team focused on attention to detail, open and honest communication, and a strong sense of ownership of the business.
This recipe for success has been used to forge strong relationships with countless key Ogilvy Health clients, but I'll share just 2 examples here, both of them relationships that were built and solidified during the COVID-19 era, with no live interaction, and without ever having met the clients in person.
During COVID-19, Ogilvy Health pitched, won, and onboarded a global prelaunch brand (name hidden to protect the awesome). From global strategic workshops with representatives around the world, to brand-building efforts and portfolio-building initiatives, the Ogilvy Health team committed to partnering with this brand and forged an incredibly strong agency/client partnership, all within the confines of pandemic restrictions. The team zoomed, skyped, webex'd, and became TEAMS ninjas to connect and stay connected with their new partners at every step of the newly formed relationship. The teams bonded over the kids running in the background, dogs barking on the call, and the décor of various basements and makeshift in-home offices. The unusual circumstances made for atypical yet personal connections and the teams bonded—and bonded strongly. Two testaments to the success of this relationship are the scores from the biannual agency evaluation. In the first round, Ogilvy Health received a respectable 4.2 out of 5. But we knew we could do even better. Building on the momentum of the positive team dynamics, we hyper-focused our continued efforts—and the result? Our client awarded us a perfect 5 out of 5 score. A great achievement made even greater given the dynamics of today's world, and clear evidence that amazing relationships can be forged in a virtual setting.
And while the fundamentals of agency/client partnerships have largely remained the same since the beginning of the pandemic, it is critical under current circumstances for an agency to make use of all the technology at its disposal to not only engage clients, but to build and solidify newly formed internal teams. Being flexible and open to client-driven platforms and ensuring a strong working knowledge of those platforms across all team members are critical to the perception of an agency as having a nimble, attentive, and proactive team.
This blueprint proved successful once again when Ogilvy Health began partnering with yet another brand in the rare disease space for the same company. The situation was slightly different, as this brand was 2 years post-launch and was looking to change the inflection of their growth curve. The client needed big thinking and bold moves to make it happen. Once again, Ogilvy Health employed the same keys to success to this business and the result was very much the same: a strong client partnership resulting in great work, delivered on time, on budget, and with the promise of an expanded relationship that will continue to grow…virtually of course. At Ogilvy Health, nothing can stop our commitment to building strong client partnerships. We not only understand the fundamentals that are the keys to success, but our agility and desire to forge strong bonds ensure we will overcome any obstacle in our way…even a global pandemic.