When Two Friends Compete for the Same Job and Both Come Out on Top
07/14/21
by Kerianne Slattery
We have all heard stories of how life-long friendships are made at work, and sometimes even families are born when the occasional real-deal love story blooms. I started working at Ogilvy Health 15 years ago (then named CommonHealth) and over the course of my tenure here my manager, Beth and I have become incredibly close. She is one of my closest friends, my mentor, and my confidant. She sang Ave Maria in the church at my wedding. She was by my side when I buried both my parents and was one of the first visitors at the hospital when I delivered my both of boys. I could go on and on, but this post isn't about me, or Beth.
In fact, this post is about two of our new Account Executives who have been friends since college and now find themselves working side-by-side at Ogilvy Health. It's a fun story about two friends who were pretty far along in the interviewing process when they realized they were competing for the same exact position at Ogilvy Health. The management team interviewing them was so impressed with them both that they added an additional position to the agency roster in order to hire both talented women for our PR Team. Meet Maya Coe and Reilly Dugery.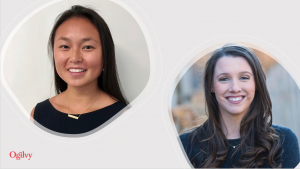 Hi ladies! Tell us a bit about yourselves, where you are from, what are your hobbies and passions?
Maya: I'm from New York, NY and graduated from Emory University in 2019 where my studies focused on health and marketing. I was a member of Emory's varsity track and field team, specializing in jumps. Health excites me because it sits at the forefront of our lives and presents so many growth opportunities in the areas of innovation and business. Also, as an athlete, I have natural passion for health, fitness, and wellness.
Outside of the office, you can find me working out and taking long walks/exploring the city with my Mini Goldendoodle, Hudson. I also enjoy reading, listening to Country and EDM Music, seeking out eclectic dining spots, and enjoying time with friends and family.
Reilly: I am originally from Philadelphia, PA and graduated from Emory University in 2019. At Emory, I majored in English and History with a concentration in disability studies. One of the many aspects of medicine and healthcare that excites me is the potential for new and innovative therapies to treat patients with rare and/or understudied diseases, particularly neuromuscular disorders.
Outside of work you can find me in the shade reading a book, exploring the city, walking my dogs and spending time with my friends and family.
We heard through the grapevine that you two are very close friends and have quite an interesting story as to how you both ended up here at Ogilvy Health. Can you tell us a little bit about that and how did you hear about Ogilvy Health?
Maya: How we both ended up at Ogilvy Health was fate and completely unplanned.  As I was already working in the industry, I was familiar with Ogilvy Health. I was contacted initially by HR and then had the opportunity to interview with my future team leads and manager — their stories and passion for Ogilvy Health really intrigued me. I knew the opportunity they presented was compelling and I was excited by our discussions and their team. Just before receiving an offer, my best friend Reilly shared with me that she was pursuing an exciting position at Ogilvy Health as well. We quickly realized all roads led back to our respective initial contacts at the company and then we figured out we both could be applying for the same position! As it turned out, we were both thrilled to be hired and join forces on one account together. It's fun and an honor to work with such an amazing and smart friend on creative ideas and it's possible given the great respect and support we have for each other personally and professionally.
Reilly: Maya and I met at Emory and have been great friends ever since! It is quite funny – neither of us knew the other person was applying for the same position until I shared the news that I had accepted an offer and that's when Maya let me know that she was pursuing the same role! It was so awesome that we both ended up on the same team and I am so lucky to work with her.
What do you think made Ogilvy Health the place for you, as opposed to a different agency? What made OH stand out, besides working together of course?
Maya: The opportunity to work as part of a collaborative and dynamic Health/PR team and support a client on a public health issue (smoking cessation) that resonates with me personally; as well as the value Ogilvy Health places on its people combined with the passion, drive and boundless creativity excites me to be part of the Ogilvy Health family.
Reilly: I have always admired Ogilvy Health's creative work and campaigns. When the account lead reached out to me about an open position, I jumped at the chance to join such an awesome agency and such a wonderful team. I feel incredibly lucky to have the opportunity to combine two of my passions – healthcare and writing/communications!
One thing that I did not anticipate (and am so happy about) is the amount of value Ogilvy Health places in their employees. There are constantly opportunities to grow not only professionally, but also personally. From "Career Conversations" on Wednesdays to "virtual coffee," you can tell that our agency leaders listen to our feedback and make a genuine effort to do whatever they can to make Ogilvy Health an amazing place to work.
How is the virtual working environment going for you?
Maya: I enjoy working remotely as it gives me more flexibility between balancing work and personal life, but I am ready to integrate office life back into the picture – I fully support a hybrid model. I'm eager to meet and interact with my team in person and meet other Ogilvy Health colleagues.
Reilly: It was a bit of an adjustment at first – I do miss going into the office and seeing people, but I feel very lucky to have more flexibility schedule-wise so I can spend more time with my family. All of us live in different parts of the country and I never imagined that I would have the opportunity to see them as much as I do now while also working full-time at a job that I love.
What are you looking forward to most, when we get back in the office?
Maya: Meeting the Pfizer/CHAMPIX team; my manager in-person and getting to know Ogilvy Health on a larger scale.
Reilly: I am super excited to finally meet everyone in person!
Any advice for soon-to-be/recent graduates from your job search journeys?
Maya: Don't close any doors before they open – be open-minded, network and listen to opportunities presented – and pay it forward.
Reilly:
Go for it – network as much as possible. It may seem cliché but you never know what you will learn from someone or what opportunities may arise. When I arrived in NYC after graduation, I reached out to as many alums that I could think of in my field and I am so grateful that they generously took time out of their days to give me advice. Always make sure to thank anyone who gives you advice or takes time to speak with you.
Don't pigeon-hole yourself. My resume is quite eclectic and I have worked in several different fields – each of those roles helped me figure out what I do and do not want to do. It may seem like all of your classmates have everything figured out career-wise, but that's just not true. No one 100% knows where they will land after college – take every opportunity that comes your way to learn and grow.
Most of the time, rejections are not personal. You may be an amazing applicant and if a company chooses to go with another equally qualified candidate, do not be discouraged. It just wasn't meant to be.
Any last thoughts?
Maya: I'm proud to be part of the Ogilvy Health family and having the opportunity to work alongside an incredibly kind, smart, and caring friend.
Reilly: Thank you for giving us this opportunity to share our thoughts and perspectives!