Whoever Said "Build It and They Will Come" Doesn't Know Marketing!
02/08/21
by Nick Cavarra
Marketing today can be defined simply—it's overwhelming. It's getting harder with each passing year to find someone who remembers the days when all you needed were business cards, a nicely printed brochure, and a telephone, and you could start "dialing for dollars." The only advertising you needed was an ad in the yellow pages and the only SEO strategy was to name your company with as many AAA's as possible so you would be listed first. Well, that's changed just a tiny bit.
Working in new business with a focus on healthcare brands and disruptor startups, I field calls almost every day from all types of companies with various sizes of revenue. The funny thing is they all have the same challenge—"how do we market ourselves effectively? Where should we start or what should we focus on?"
Marketing today can be defined simply—it's overwhelming
While the answer will be different for every brand out there, there are steps to take that are consistent for every company, no matter the size.
A Roadmap to Growth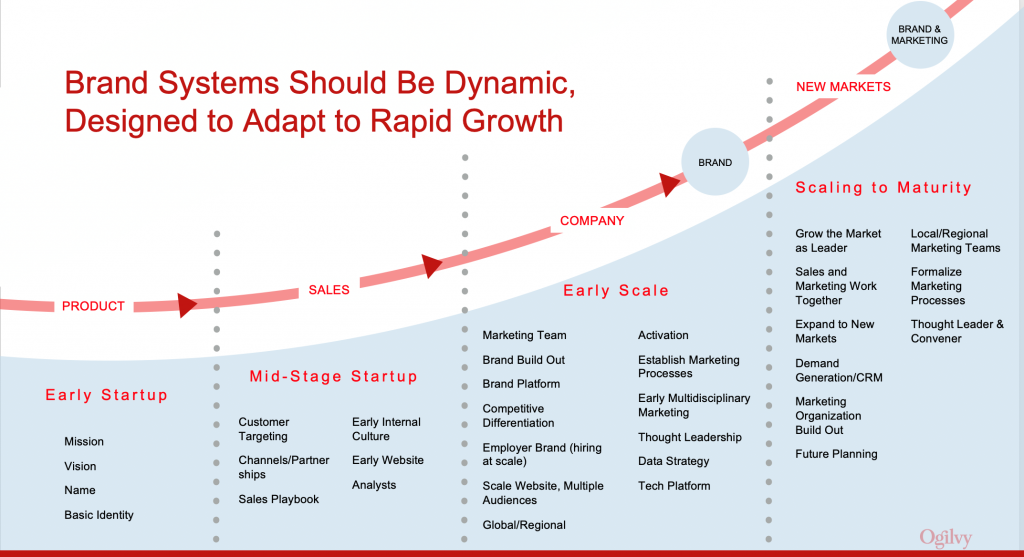 Be Data Driven
Before doing anything, spend your money on research. If you don't have a ton of money—then spend your time doing the research—after all time is money. In the marketing world, everything should start and end with data. Too often a passionate founder will charge ahead with what they think is a great idea, do a ton of work to get their product produced and ready to sell—believing, "if you build it, they will come." That just isn't true. Bottomline, you need to be sure to answer these questions before you build it:
Has someone else already built it, and if so, how many?
How can you deliver your product or service in a way that will be effective and differentiating in the marketplace?
What is your profit margin to produce your product(s) or provide your service(s)?
How much advertising and marketing can you afford to do at launch and after?
Do you know how much your return on advertising spend should be? (If you spend $100 dollars on advertising, what is the volume of sales that must be driven by that spend, e.g., $100:$1,000—10 to 1—or is it something lower, e.g., 3 to 1?)
In the marketing world, everything should start and end with data.
Let's Talk About Google
Google is really good at what they do. So much so that the name of their company has become a verb in our vernacular—we say, "I Googled it." That says it all. When consumers are looking for a product, service or location, they go to Google. So be sure to learn as much as you can to ensure your product or service appears as close to the top of the first Google page when that consumer searches for the products/services you provide. The good news is Google provides a many tools to help you determine what people are already searching for—and that is the key. There is a conversation already happening in the marketplace about the products and services your company provides. That conversation needs to include you and your company. Often founders and companies build a great new website or platform to start having conversations—but then are disappointed when no one shows up. Think of it this way—would you rather open up a gas station just off the highway where there is a ton of traffic or in some remote location with none? Google helps you open up your shop where the traffic already is.
Size and Focus
The importance for startups is to provide the best service and experience they can. To do that, the startup needs to focus on the customer first. It is also best to focus on providing only one product and/or service out of the gate and then expand the business as it grows and succeeds with the customer base. Here is an example of one now-famous startup that demonstrated this strategy well.
Most folks would say Peloton sells a great exercise bike. That may be true, but what Peloton really did an incredible job of selling was "in-home fitness" while still providing a strong community to be a part of. Peloton focused on creating a community of folks trying to stay in shape while juggling careers, raising kids, and all the other distractions of the modern-day world. Peloton created a very engaged community on Facebook, which extended from their community of avid users on the Peloton platform itself. They started by putting the exercise classes online with engaging instructors and then promoted those instructors and created events for them in select retail locations which helped them almost become "rock stars." Revenue for Peloton really comes from their monthly subscription fees—not the profits from their high-end bikes (I've even seen some quotes from their employees that suggest they only break even on the high-end bikes). Only now are they beginning to expand their product line by adding a treadmill as well as accessories and gear. But still the focus remains on community and customer engagement.
Peloton created a very engaged community on Facebook, which extended from their community of avid users on the Peloton platform itself.
A Team of Smart Specialists
So how can you and your company emulate Peloton and become the next famous unicorn success story? Help is out there! While every agency around will tout that they have a unique team of specialists who can help you grow your company—success only comes when those specialists work closely as a team, truly making the whole better than its parts. You need a team that can help you grow one step at a time and deploy solutions in the proper order for your unique company to achieve success. As I mentioned earlier, an overwhelming amount of options are out there like software, martech, DMPs, ESPs, CRMs, CX, SEO, SEM, and every other alphabetic soup acronym that could potentially be the right tool to grow your business It will take a team of experts in each of those capabilities to truly drive your success.
And remember—agencies are experts in selecting, deploying, and measuring these tools—let them do their job. When you hire an expert contractor to build a new deck in the backyard do you really think you could do that too? Some believe marketing to be effortless and simple. It is not. Just because a person knows how to engage with their relatives and friends on social media doesn't mean they have the specialized skills it takes to build a successful brand. Go get help from a qualified agency and always go back to good old-fashioned relationship-building. The new silver bullet out there is called human-centric customer engagement, which is really just an old take on the notion that "the customer is always right." The only metric that really matters—and one aptly described by the famous David Ogilvy quote, "we sell, or else,"—is sales. Do customers actually take out their wallet, or plop down their credit card, or ApplePay on their phone and vote with their money? Solving their problems in the most efficient way possible (which can include accepting all those types of payment options) will give you a great shot at success!
---
Interested in learning more about how healthcare and pharmaceutical brands are adapting to modern customer expectations and delivering seamless experiences? Check out our blog series on reducing friction along the patient journey:
Part 1: Defining Friction
Part 2: Discovery Friction
Part 3: Transactional Friction
Part 4: Overcoming Friction