Working 9-to-5, What a Way to Make a Difference
12/13/21
by Daniel Cinna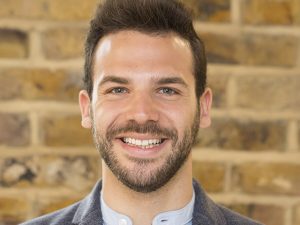 I wholeheartedly believe that we each have the power to make our corner of the world that little bit better. A chat with a client or colleague. A laugh on a status call. A campaign that supports a patient in their moment of need.
After moving from journalism to corporate PR, I knew something was missing. You know that feeling of, "what difference am I really making to the world"? It was during this career transition that I had an opportunity to work with a pharmaceutical company on a corporate reputation campaign. From here I left corporate PR, and my journey into health comms began.
Delving into the world of disease awareness and healthcare professional communications, I uncovered an army of people passionate – like I was – about making a difference. On a secondment to a pharma company, I met people from so many different backgrounds, from R&D staff to medics, quality controllers, through to market access and comms. They were each united in their passion to improve their corner of the world. Imagine that: different roles, different responsibilities, different goals, all united in the same vision – to improve the lives of patients.
Something in that energy is contagious and it's alive in our agency. I can see the changes I'm making almost every day.
On a recent podcast campaign, I had the opportunity to interview people with a debilitating rare lung disease. Hearing their stories of resilience fuels my passion to do the best job I can. Together we help bring rare disease communities together, improve access to treatment, speed up diagnoses and ultimately, provide patients with the support they need.
When I'm working with a team to bring programmes like this to life, an interesting thing happens. You suddenly find yourself surrounded by other people with the same desire to improve the lives of patients. And it's here that your journey could begin. You will hear moving stories of resilience from patients and gain a deeper understanding of the driving forces keeping doctors working tirelessly to help others. You will be intellectually challenged and inspired to share ground-breaking scientific advancements with broad audiences in highly creative ways. You will never have a dull day.
If you want to find a role that can help channel your passion to improve your corner of the world, then look at the jobs tab on our LinkedIn page or the Ogilvy Health website. Here you can, quite literally, work to make a difference.